People Like You: contemporary figures of personalisation
Post date
Tuesday, September 14, 2021 - 09:42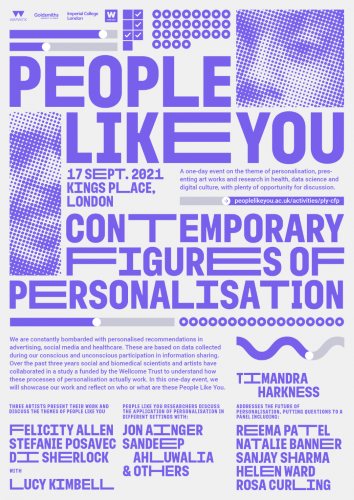 As part of a Wellcome Trust Medical Humanities Collaborative award, "People Like You: contemporary figures of personalisation" we are holding a one day event in London on Friday 17 September 2021. See our resident artists present their work, plus discussions on personalisation, medicine, healthcare and data science.
Featuring Stefanie Posavec, an artist-in-residence exploring data science and personalisation. Through her data-driven art practice she investigated how stakeholders within Imperial College's Airwave Health Monitoring Study perceive the 'people behind the numbers' who consent to their biological samples and data being used and stored for research. After interviewing Airwave's staff and participants, she created Data Murmurations: Points in flight a detailed drawn map of the journey a participant's biosamples and data take through the study, from their initial acquisition in a study clinic to analysis by researchers. Alongside this map Stefanie created a series of drawings that present the various perspectives of study stakeholders from their 'positions' within the Airwaves system, showing how their ability to 'see' the individual participant within the aggregated data changes depending on one's system 'position'.
More at https://peoplelikeyou.ac.uk/activities/ply-cfp/
You can sign up from here.